Adult Care Worker Apprenticeship Standard - Level 2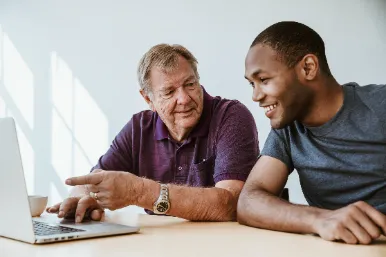 The Heath Care apprenticeship will take approx. 12 to 18 months to complete in the work place, providing front line care for vulnerable adults within their own homes, day centres, residential and nursing homes and other health care settings promoting personal attributes and behaviours expected of all adult care workers carrying out their role with care, compassion, courage, communication, competence and commitment.
Price
No fee for eligible learners
Location
Workplace Delivery
What is the Programme Content?
A blend of • Taught workshops • Tutorials • Self-directed learning and application in a business environment Development of skills, knowledge and behaviours throughout continuous & professional development You will be required to develop your knowledge of the business you work in. Meeting regulations and legislation accordingly.
Those wishing to pursue a career within a care/health setting and/or frontline staff in health/care settings.
What prior experience and knowledge do I need?
Level two – prior experience/knowledge is not required. Apprentices without level one or equivalent English and maths will need to achieve this before end point assessment.
What materials or equipment do I need to provide?
What materials or equipment do we provide to you?
Copy/print of care certificate work books
Ongoing programme progression will be reviewed with the employer. Completion of level two diploma in care test End Point assessment will include: • Situational judgement test • Professional discussion, • Portfolio of evidence
Is the programme accredited?
The programme is a nationally recognised apprenticeship certificate.
Level two – supports entry into a health and care occupation with progression to lead adult care worker level three.
Enquire About This Course
Complete the form below to begin your enquiry & one of our team will contact you