Dressmaking for Well Being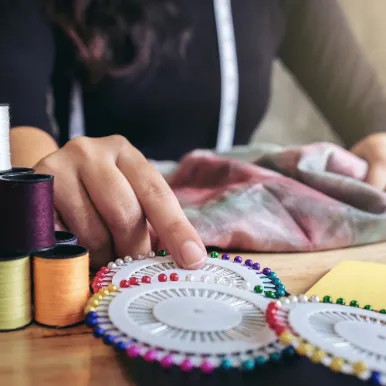 This course covers sewing, cutting and pressing techniques used in dressmaking. The course is suitable for all ability levels including complete beginners wanting to learn a new skill or for anyone with existing sewing experience that wants to refresh or enhance their skills. The course is classroom based and you will be able to learn in a relaxed and friendly atmosphere that can help to encourage a sense of wellbeing. PLEASE NOTE: Due to restrictions on funding from NTCA learners from the North of Tyne Authority postcodes will need to pay the full cost of programmes at the time of enrolling which will be more than the price quoted in the online directory. This will equate to £4 per hour of learning with no concessions available in regard to age or employment status.
Location
Wrekenton Community Centre
Course Times
12:30pm to 3:00pm
What is the Programme Content?
During the course you will learn how to use the sewing machine and dressmaking patterns and how to take accurate measurements for dressmaking projects. You will have the opportunity to find out about different processes used in dressmaking such as seams, fastenings, hems and pockets and you will also cover pressing and finishing techniques that will enhance your garment.
This course is for anyone with an interest in dressmaking that wants to meet and learn with other people who have similar interests. It's aimed at all ability levels so if you want to learn a new skill or enhance your existing sewing skills this course will be suitable for you.
What prior experience and knowledge do I need?
You don't need any prior knowledge or experience for this course.
What materials or equipment do I need to provide?
You will be given an equipment list at the first session of your course; it will include basic sewing tools such as scissors, pins, tape measure, needles and an unpicker. You will also be required to supply fabrics, threads, patterns, etc. for your personal projects. We will discuss this in more detail when the course starts.
What materials or equipment do we provide to you?
We will provide sewing machines and pressing equipment and there will be a range of specialist tools and equipment that will be available for you to use in class.
You will be encouraged to assess your own progress with help from your tutor who will have one-to-one discussions with you to give guidance and support.
Is the programme accredited?
You can further enhance your dressmaking skills by attending other textile craft courses or progress to an accredited sewing or dressmaking course. There are also opportunities for you to enrol onto other craft courses such as fused glass, silk painting, bag making and many more. Check out our prospectus on www.starttolearn.uk or contact learningSkills at 0191 433 6450. For more specific guidance, your tutor will give you specialist information on next the steps to follow.
Enquire About This Course
Complete the form below to begin your enquiry & one of our team will contact you