Early Years Practitioner Apprenticeship Standard Level 2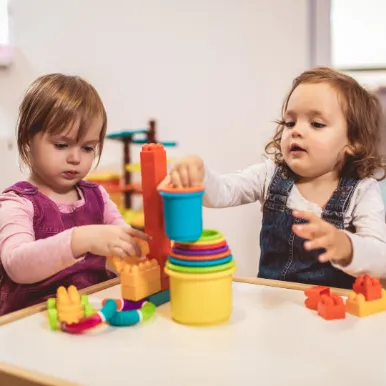 Do you want to work and interact with young children on a day to day basis? As an Early Year's Practitioner you will be working in an Early Year's setting and on a daily basis will be interacting with children, colleagues and parents. You will be responsible for supporting child initiated and adult led activities based around the needs and interests of each individual child, supporting children's learning through planned, purposeful play opportunities and educational programmes and working as part of a team to ensure each child feels safe and secure. An EYP will also support the observation and assessment of each child and contribute to their learning experiences and assist with the care needs of the individual child such as teeth, skin, hair, feeding, changing nappies and toileting under direction of a more senior member of the team. You will also work in partnerships with other colleagues, parents and/or carers or other professionals, with support from a more senior member of the team, to meet the individual needs of each child. You will also have a responsibility for ensuring that they recognise when a child is in danger and/or at risk of serious harm or abuse and contributing to the health and safety of the children, staff and others on the premises.
Price
No fee for eligible learners
Location
Workplace Delivery
What is the Programme Content?
During the apprenticeship you will be gaining valuable hands on experience in an Early Year's setting supporting young children to learn and develop through planned purposeful play. Health and safety and keeping children safe will be an important part of the job along valuing difference and supporting equality and inclusion. Alongside the practical experience gained you will be attending training sessions to develop the knowledge, skills and behaviours required such as how children learn and the expected pattern of babies and children's development from birth to 5 years and their further development from ages 5 to 7. Areas of development include: cognitive, speech, language and communication, physical, emotional, social, brain development and literacy and numeracy. Support babies and young children through a range of transitions. e.g. moving onto school, moving house or the birth of a sibling Care and compassion - provide the very best childcare to every child every day combined with the ability to identify opportunities for development. During the course you will build a portfolio of evidence and develop skills to support professional discussions in preparation for the knowledge test and end point assessment.
Anyone interested in a career working with young children
What prior experience and knowledge do I need?
What materials or equipment do I need to provide?
Access to the internet via a laptop, PC or iPad
What materials or equipment do we provide to you?
Google classroom and Smart Assessor
Throughout the apprenticeship you will be assessed through assignments, observations, professional discussions and Q&A. At the end of the programme you will complete an End Pint Assessment (EPA) comprising of a professional discussion underpinned by a portfolio of evidence and a knowledge test. Apprentices without English and maths at level 2 must achieve level 1 English and maths and take the tests for level 2 prior to EPA.
Is the programme accredited?
Level 2 Diploma for the Early Year's Practitioner - City and Guilds EPA - ActiveIQ
Early Educator's Apprenticeship Standard Level 3
Enquire About This Course
Complete the form below to begin your enquiry & one of our team will contact you