Level 3 Teaching Assistant Apprenticeship Standard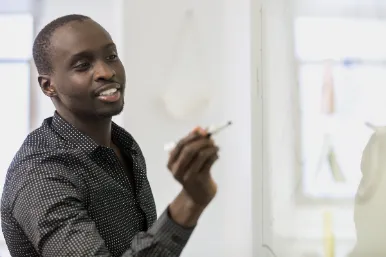 Teaching Assistants work in Primary, Special and Secondary education across all age ranges. The primary role of the Teaching Assistant is to support the class teacher to enhance pupils' learning. This is done in groups or individually. As a teaching assistant you will ensure pupils understand the work set. You will also ensure they know their learning objectives and stay on task in order to make progress. Promoting self-belief, social inclusion and a high self-esteem play an integral part to pupils' well-being. You will ensure pupils thrive in a positive, nurturing, safe environment. It is an active role supporting the learner to access the curriculum. Teaching assistants are good role models, act with honesty and integrity, take part in team meetings; contribute to planning and class activities.
Price
No fee for eligible learners
Location
Workplace Delivery
What is the Programme Content?
Anyone who would like to support the teaching and learning of children and young people
What prior experience and knowledge do I need?
Level 2 Teaching Assistant qualification or equivalent experience
What materials or equipment do I need to provide?
Access to the internet via a PC, laptop or tablet
What materials or equipment do we provide to you?
Access to Google classroom and Smart Assessor
Throughout your apprenticeship you will be assessed holistically, through observation of practice, professional discussion, tasks and assignments, Q&A. At the end of your apprenticeship you will complete an 'End Point Assessment' (EPA) which consists of a practical observation with a follow up Q&A session and a professional discussion based on a portfolio of evidence. All apprentices require English and mats at L2, anyone without these qualifications must achieve them prior to EPA.
Is the programme accredited?
You can progress to 'Higher Level Teaching Assistant' status (HLTA) or a level 4 childcare/education qualification.
Enquire About This Course
Complete the form below to begin your enquiry & one of our team will contact you