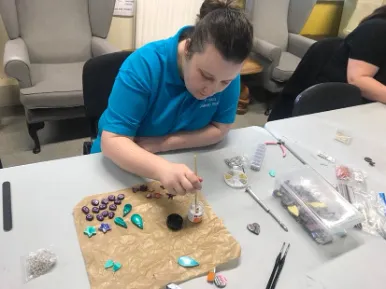 Meet Shannon Wilson. A learner who began attending the new Jewellery For Well Being sessions at ReCoCo in Saltwell Park.
She is now in her second term and has said she loves learning the new techniques and is proud of the work she has made so far.
Shannon has just secured a job supporting those with educational needs in the Nursery of St. Chads Community Centre in Bensham and is absolutely loving it.
Shannon believes that coming to the sessions and getting the support of everyone at ReCoCo gave her the confidence she needed to make that leap and attend the interview, ultimately achieving her dream job.
Sometimes it's not ONLY about what you're learning, but the support you're getting and how that feeling can set you up for success. Want to share some of what Shannon is feeling? Check out our Adult Courses!