Level 4 Learning and Skills Mentor Apprenticeship Standard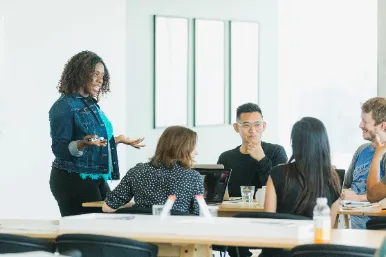 This occupation is found in the public, private and voluntary sectors in national and multinational organisations. The role of the learning and skills mentor can be found in all sectors where training and development is required.
Price
No fee for eligible learners
Location
Gateshead Interchange Centre
What is the Programme Content?
The purpose of the learning and skills mentor is to support individuals and groups with their learning and development towards agreed goals.
They will do this by working within ethical and legal frameworks to ensure a high standard of mentoring practice. They will work collaboratively with stakeholders to inclusively meet the individual needs of the mentee. They will typically work in an environment in their organisation where they are the knowledgeable other. They will work in a variety of locations and environments where mentoring activity may be undertaken face to face or remotely. Typical job roles can include: Tutor, Learning Facilitator, Technical Mentor, Occupational Mentor, Vocational Officer, Career Mentor.
What prior experience and knowledge do I need?
Level 2 in Maths and English is compulsory to entry on to the programme. Original certificates are required for both entry and as reference within your EPA period. It is good practice to also supply evidence of a specialist knowledge area which will be used within your Learning and Skills Mentor practical application. Base line assessments will be undertaken at Induction and judgement made by the lead tutor / assessor to the suitability of learner to the programme. A Training Plan will be developed with the Tutor and Employer in order to structure and individualised pathway of learning and skills development.
What materials or equipment do I need to provide?
What materials or equipment do we provide to you?
The independent assessor must observe one live 30-minute mentoring session. In addition, the apprentice will provide the independent assessor with two 30-minute recordings of mentoring sessions, that will be viewed by the independent assessor as part of the observation on the day of the assessment. The recorded mentoring sessions must take place and be recorded post gateway. The recorded mentoring sessions, may be with the same, or different, mentees. In the recorded mentoring sessions the mentor and mentee must be visible in the recording. Audio only recordings will not be accepted. Recorded and observed mentoring sessions may be 1:1 mentoring or group mentoring, reflecting the apprentices typical practice. The professional discussion must last for 60 minutes. The independent assessor can increase the time of the professional discussion by up to 10%. This time is to allow the apprentice to respond to a question if necessary. The independent assessor must have at least 2 weeks to review the Showcase Portfolio, following which a date will be set with apprentice to engage in the Professional Discussion. A minimum of 8 questions will be asked by the independent assessor, informed by the apprentices Showcase Portfolio.
Is the programme accredited?
Enquire About This Course
Complete the form below to begin your enquiry & one of our team will contact you